The Chicago Marathon Schedule
The lettered Start Corrals A, B, C and D are seeded placement of the fastest 12,000 participants based on their recent marathon and half marathon finish times. The Open Corral or Open Start is self-seeded placement of participants by expected net finish time. Net finish time for the Open Start participants ranges from 4:00 – 6:30 hours.
Qualifying times for Seeded Start Corrals: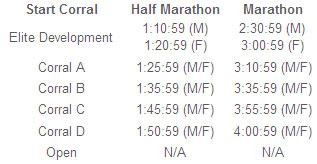 How to Qualify for a Seeded Start Corral
Seeded Start Corrals A, B, C and D are secure start areas designed to offer a quicker and smoother start for all qualified runners. Assignment to Seeded Start Corrals is based on a submitted qualifying time run in a recent marathon or half marathon, and offered on a first-come, first-served basis. Assignment to a Seeded Start Corral is not guaranteed and must be confirmed by the participant.
Qualifying times must be submitted in the form of a race result certificate or race result page from a marathon or half marathon run no earlier than January 1, 2010 and no later than August 17, 2012.
Proof of qualifying times must be faxed to 312.904.9808. Address your fax to: Bank of America Chicago Marathon Start Corrals.Start Corral qualifying times will not be accepted after Friday, August 17, 2012.
Upon faxing your qualifying time, please confirm receipt by checking the online registration confirmation page and verifying your Start Corral assignment. Please allow one to two business days for Start Corral assignments to be processed. E-mail messages or website links will notbe accepted as proof of qualifying.
Note: Finishers of the 2010 or 2011 Chicago Marathon who achieved a qualifying standard for a Seeded Start Corral at one of those events do not need to submit proof of performance, but must review the online registration confirmation page to confirm their Start Corral assignment.
Start Corral A
Secure starting area set directly behind the Elite Development Corral for all qualified participants. Qualifications for Start Corral A are as follows:
Half Marathon time:          <1:25:59
Full Marathon time:           <3:10:59
Expected capacity:             1,500
Avg. time to cross Start:     0:42 (seconds)
Start Corral B
Secure starting area set directly behind Start Corral A for all qualified participants. Qualifications for Start Corral B are as follows:
Half Marathon time:           <1:35:59
Full Marathon time:            <3:35:59
Expected capacity:               3,000
Avg. time to cross Start:      1:58 (minutes)
Start Corral C
Secure starting area set directly behind Start Corral B for all qualified participants. Qualifications for Start Corral C are as follows:
Half Marathon time:            <1:45:59
Full Marathon time:             <3:55:59
Expected capacity:               4,000
Avg. time to cross Start:      4:11 (minutes)
Start Corral D
Secure starting area set directly behind Start Corral C for all qualified participants. Qualifications for Start Corral D are as follows:
Half Marathon time:            <1:50:59
Full Marathon time:             <4:00:59
Expected capacity:               4,000
Avg. time to cross Start:      6:31 (minutes)